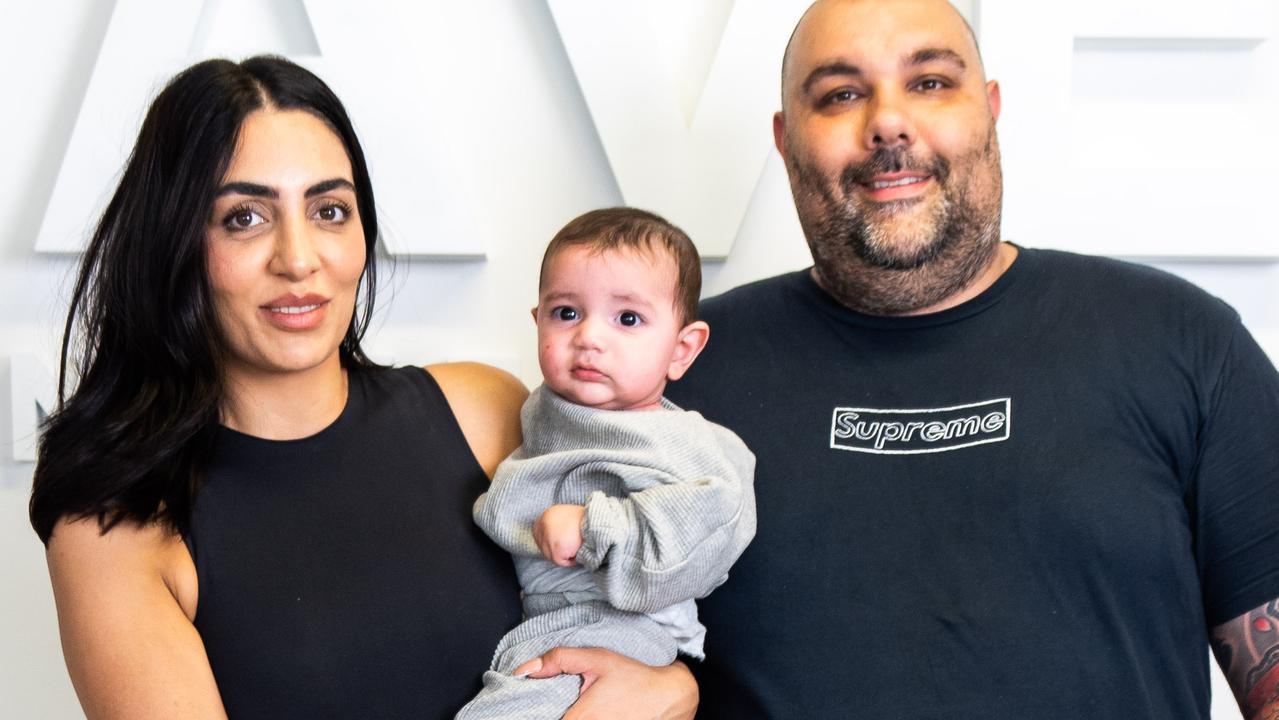 How a Sydney couple created a $10 million Waves sneaker empire
A couple was earning an average salary, but their stampede started generating more money than they could have ever imagined.
A former security guard's obsession with sneakers has earned him $10 million.
George Kozma, 36, from Western Sydney has always been a big fan of streetwear.
Originally conceived as a side hustle, he and his wife Olivia, 30, opened Waves, an online store providing accessories, apparel and sneakers in their favorite styles, including Yeezy Slides and Air Jordans.
Then in 2020, when Covid-19 plunged Australians into lockdown, their business exploded because online was the only way anyone could shop.
Mr. and Mrs. Kozma have decided to quit their day jobs to devote themselves full-time to the e-commerce store.
Last year, the mother and father made $10 million in sales and they are looking at $15 million for 2022.
"Every month would just go up, up, up," Mr Kozma told news.com.au. "Never in our wildest dreams would we have thought to process 100 to 150 sneakers a day."
Mr. Kozma realized there was a gap in the market in 2014 when sneakers started to gain popularity.
This has led to many counterfeit sneakers being sold as the real deal.
"People always came to me for verification advice," he recalls. "There were so many eBay and Facebook Marketplace posts [ads] selling them for $800 but they would be fakes, I would help people in that regard.
"Then I thought maybe we could make something out of that."
Sure enough, in 2018 he and his wife launched Waves, spending $5,000 on accessories from a skate brand called Supreme.
They stored stock in their room and packed orders on the way home from work.
In their first year, they made around $10,000 a week in total sales.
However, Mr. Kozma pointed out that in this type of industry, margins are low, especially since the stock was so expensive.
The money they earned was instantly plowed back into the business.
They then ventured into clothing and a year later also started selling sneakers.
The waves were turning right, then in 2020 things just blew up.
By the time the pandemic hit Australian shores, Waves was more established and the Kozmas were moving around $50,000 worth of stock per month.
Then, two years ago, they started selling up to $100,000 worth of sneakers a week, almost 10 times their normal amount.
"At the start of 2020, we just thought, 'What's going on here? '" Mr. Kozma explained.
"It was just crazy. People's only shopping option was an online store. While they were locked up, they wanted something exciting.
"We had a huge, huge, huge jump."
Mr Kozma quickly 'thrown in the towel' with his private security job while Olivia shut down her laser hair removal business to work alongside him.
To take the business to the next level, they rented a warehouse in mid-2020 of around 120m² to store their stock.
"And then after a year we got too big, now we're in a 500m² warehouse."
The waves continued to reach new heights. Last year in August, when Australia's two biggest cities, Sydney and Melbourne, were in lockdown, the Kozmas had their best month yet.
"We processed nearly 4,000 orders that month," he said. "The average order sale is around $450, so that month we hit around $1.8 million. [in sales]."
They have 15 full-time employees, buy products and work in the warehouse.
Although the business proved to be lucrative, it was difficult at times, especially considering they had two daughters while still in the start-up phase.
Their eldest, Pénélope, is three years old and Rémi was born six months ago.
"Within a week of giving birth, Olivia was back at work," Mr. Kozma said.
They also work bizarre long hours to keep the business alive.
"All my stock comes from various countries around the world – US, UK, Paris," he added.
"I should always be awake when these guys are awake, the phone is never on silent. You have to answer these guys, you just don't know, you might lose a deal, they might move on to another buyer.
For 2022, the couple plans to move into physical retail space, having had success with a pop-up stand in the warehouse where customers would come to try out the stock.
They expect sales of over $15 million this year.
Read related topics:
sydney